Sinovoip Banana Pi M2
Jump to navigation
Jump to search
Banana Pi M2 is A31s based development board produced by Sinovoip.
Despite its name the M2 is incompatible to Banana Pi/M1/M1+/Pro due to a different SoC - requiring different boot loaders and drivers.
Sinovoip Banana Pi M2
Manufacturer
Sinovoip
Dimensions
92 mm x 60 mm
Release Date
May 2015
Website
Device Product Page
Specifications
SoC
A31s @ 1Ghz
DRAM
1GiB DDR3 @ 432MHz
NAND
-
Power
DC 5V @ 2A (4.0mm/1.7mm barrel plug - centre positive)
Features
Video
HDMI (Type A - full), LVDS/RGB
Audio
3.5mm TRRS/OMTP plug (stereo+mic), HDMI, on-board microphone
Network
WiFi 802.11 b/g/n (Ampak AP6181), 10/100/1000Mbps Ethernet (Realtek RTL8211E)
Storage
µSD, no SATA
USB
4 USB2.0 Host (using an internal Terminus Technology Inc. 4-Port HUB), 1 USB2.0 OTG (µ-USB)
Identification
The board reads "BPI-M2" next to a large "BPI" logo and has the same dimensions and mounting hole positions as other Banana models (to which the M2 is incompatible due to different SoC/GPU). DRAM and A31s SoC are on the upper PCB side therefore differentiation is easy by looking at the SoC's 'A31s' labelling and the four USB ports.
Sunxi support
Current status
The Banana Pi M2 is only partially supported.
The manufacturer provides some Android images that can only be burned using PhoenixCard on Windows and some Linux images that are broken more or less. The Linux images based on older Allwinner 3.3.0 kernel are broken regarding Gbit Ethernet initialisation, the ones that are based on release candidates of kernel 4.0.0 lack correct hardware initialisation in the device tree files so Wi-Fi isn't working.
Sinovoip cloned some github ressources where all the relevant stuff for the M2 (fex/dts files) is still missing at the time of this writing. Several months later they provide cloned linux kernel and U-Boot repos and hide the only two files of interest in there: dts and defconfig files -- see below.
Images
Manufacturer images
Various prebuilt images are provided via the bananapi.com website, the ones based on Linux all broken one way or the other.
HW-Pack
BSP
Manual build
No support in the community maintained sunxi-3.4 kernel is planned. In the meantime the manufacturer provides an Android SDK (Allwinner kernel 3.3, U-Boot 2011.09-rc1) on baidu.com.
Please skip to the next Mainline U-Boot/Mainline kernel sections.
Mainline U-Boot
Use the Sinovoip_BPI_M2_defconfig (supported since v2016.01) build target. Sinovoip's official U-Boot distribution seems unmaintained now, but when using their version, the target is BananaPi_M2.
Mainline kernel
Don't use SinoVoip's broken sun6i-a31s-bananapi-m2.dtb device-tree file but the kernel source's sun6i-a31s-sinovoip-bpi-m2.dtb to be used with mainline kernel.
Tips, Tricks, Caveats
Powering the board
It's recommended to use the 4/1.7mm jack to power the board to avoid voltage drops often seen with Micro USB. When providing power using the USB OTG port the 2 USB ports next to Ethernet won't work. Any PSU advertised for Cubieboards or Orange Pis should work.
Handle with care since it might break easily (3 times touched and already bent and almost broken)
Expansion Ports
The Banana Pi M2 exposes a 3 pin UART header, a 40 pin header with 2.54 mm pitch connectors that that mimics the Raspberry Pi A+/B+/2 models
Adding a serial port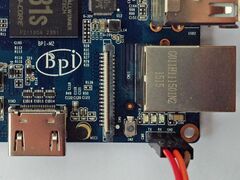 The UART header is next to the status LEDs and the Ethernet port. Just attach some leads according to our UART howto.
Pictures
Also known as
Variants
BPi-M2+
In March 2016 SinoVoip published Banana Pi M2+. This board is based on a different SoC (Allwinner H3), and uses a form factor of 65mm x 65mm - so expect it to be incompatible with the M2 in most aspects.
In Jun 2017 Sinovoip published the specs for Banana Pi BPI-M2M aka Banana Pi M2 Magic, which is based on Allwinner A33. The board also comes with an integrated amplifier for a 4ohm/2.5W speaker.
See also