Q8
Jump to navigation
Jump to search
Q8
Manufacturer
Several
Dimensions
182mm x 121mm x 7mm
Release Date
September 2013 (for the Mobii 2013)
Website
See AKA section
Specifications
SoC
A13 @ 1Ghz
DRAM
512MiB DDR3 @ 360MHz
NAND
4/8GB
Power
DC 5V @ 1.5A, 2400mAh 3.7V Li-Ion battery
Features
LCD
800x480 (7" 16:9)
Touchscreen
5-finger capacitive (Silead GSL1680)
Audio
3.5mm headphone plug, built-in microphone.
Network
WiFi 802.11 b/g/n (Realtek RTL8188ETV)
Storage
µSD
USB
1 USB2.0 OTG
Camera
640x480 (VGA) front-facing, Optional rear-facing camera
A standard A13 based, Q8 style device with separate UART pads.
This motherboard seems to have been used in several rebadges, and will come with different batteries, different cameras, and perhaps different Wifi modules and last but not last, this form factor is used in A23 and A33 tablet.
Identification
The back of the PCB reads Q8-V12., but google reveals that there are highly similar PCBs where a different name is silkscreened on the backside.
For the Point Of View Mobii 703, you will find, in android, under Settings->About Tablet:
Model Number: POV_TAB_P703(V1.0)
Build Number: nuclear_evb-eng 4.1.1 JRO03C 201311126 test-keys
The Build string is not helpful, as "nuclear_evb" just means A13 evaluation board.
To properly identify this device, open up the case, detach the motherboard, and look at the printing on the other side.
Sunxi support
Current status
Supported.
Manual build
You can build things for yourself by following our Manual build howto and by choosing from the configurations available below.
U-Boot
Sunxi/Legacy U-Boot
Use the POV_TAB_P703 build target.
Linux Kernel
Sunxi/Legacy Kernel
Use the pov_tab_p703.fex file.
Tips, Tricks, Caveats
FEL mode
The Volume+ button triggers FEL mode.
Adding a serial port (voids warranty)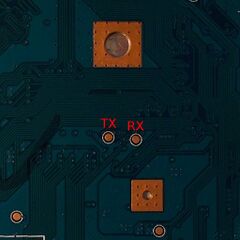 Device disassembly
See the Q8 tablet format disassembly page.
Locating the UART
On the back of the mainboard, there are two test pads near the SoC. Solder on some wires according to our UART howto.
Pictures
Point Of View Mobii 703 (Board is labelled Q8-V12)
Hardware documentation
Also known as
See also