MarsBoard A10
Jump to navigation
Jump to search
MarsBoard A10
Manufacturer
HAOYU Electronics
Dimensions
80mm x 55mm x 20mm
Release Date
March 2013
Website
www.marsboard.com
Specifications
SoC
A10 @ 1Ghz
DRAM
1GiB DDR3 @ 480MHz
NAND
4GB
Power
DC 5V @ 2A
Features
Video
HDMI (Type C - mini)
Audio
3.5mm headphone plug, HDMI
Network
10/100Mbps Ethernet (Realtek RTL8201CP)
Storage
µSD, SATA
USB
2 USB2.0 Host, 1 USB2.0 OTG
This page needs to be properly filled according to the New Device Howto and the New Device Page guide.
The MarsBoard was a short-lived credit-card sized, extendable board with an Allwinner A10 SoC.
Identification
The board reads "www.MarsBoard.com" on top, and has an A10 SoC clearly visible.
Sunxi support
Current status
Supported.
Images
HW-Pack
BSP
Manual build
You can build things for yourself by following our Manual build howto and by choosing from the configurations available below.
U-Boot
Sunxi/Legacy U-Boot
Use the Marsboard_A10 build target.
Upstream/Mainline U-Boot
Use the Marsboard_A10 target for building mainline U-Boot.
Linux Kernel
Sunxi/Legacy Kernel
Use the marsboard_a10.fex file.
Upstream/Mainline kernel
Use the sun4i-a10-marsboard.dtb device-tree binary for the mainline kernel.
Tips, Tricks, Caveats
FEL mode
The single button near SATA port triggers FEL mode.
JTAG
This page explains how to attach JTAG to your marsboard.
Expansion Headers
Board have 2 x 70 pin expansion headers.
Adding a serial port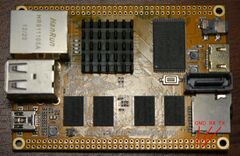 On the P2 header, pins 64, 65 and 66 are ground, TX and RX, respectively. Attach some 2.0mm pitch leads according to our UART howto.
Pictures
Also known as
See also
Homepage. Amazingly, no information on the Marsboard A10 is still available there. That's how shortlived this device was.
Manufacturer images