Inet 86dz d701c
Jump to navigation
Jump to search
Inet 86dz d701c
Manufacturer
Inet-Tek
Dimensions
190mm x 125mm x 9.7mm
Release Date
March 2014
Website
Alibaba product page
Specifications
SoC
A23 @ 1Ghz
DRAM
512MiB DDR3 @ 552MHz
NAND
4GB
Power
DC 5V @ 2A, 2800mAh 3.7V Li-Ion battery
Features
LCD
800x480 (7" 16:9)
Touchscreen
5-finger capacitive (Silead GSL1680)
Audio
3.5mm headphone plug, internal speaker, internal microphone
Network
WiFi 802.11 b/g/n (Realtek RTL8188ETV)
Storage
µSD
USB
1 USB2.0 OTG
Camera
0.3MP (640x480) front
Another cheap $20-$80 tablet with a tolerable screen and an A23 processor.
Identification
In android, under Settings->About Tablet, you will find:
Model Number: A727
Build Number: A23_86DZ_D701C_131174.20131229
Sunxi support
Current status
Like all things A23, this hardware is not supported. It is however a prime target for development. For more information, check the Allwinner A23 SoC page.
Images
HW-Pack
BSP
Manual build
For building u-boot, use the "

MANUFACTURER_DEVICE

" target.
The .fex file can be found in sunxi-boards as MANUFACTURER_DEVICE.fex
Everything else is the same as the manual build howto.
Tips, Tricks, Caveats
FEL mode
The Volume +/- buttons trigger FEL mode. Unfortunately, FEL mode via this method appears to be useless for dumping device info.
Adding a serial port (voids warranty)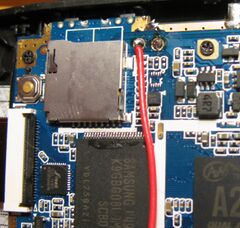 Device disassembly
Unscrew 2 small screws on the button panel side. Using a plastic tool pop out the sides and pull off the cover.
Locating the UART
The test pad nearest to the right side of the SD slot is serial TX. Tx is multiplexed with pin mmc pin 0, so expect to see garbage when using an SD card.
Rx hasn't been found yet (Neither front nor back test pads nor uSD slot pins). Read-only console for now.
Pictures
Also known as
See also