ENET E714F
Jump to navigation
Jump to search
ENET E714F
Manufacturer
ENET
Dimensions
181mm x 121mm x 10.5mm
Release Date
10 2015
Specifications
SoC
A23 @ 1.5 Ghz
DRAM
512MiB DDR3 @ 432 MHz
NAND
4GB
Power
DC 5V @ 2A, 2500mAh 3.7V Li-polymer battery
Features
LCD
7" 800x480
Touchscreen
5-finger capacitive (Silead GSL1680)
Video
Lcd
Audio
3.5mm headphone plug, internal speaker, internal microphone
Network
WiFi 802.11 b/g/n (Realtek RTL8703AS)
Storage
µSD
USB
1 USB2.0 OTG
Camera
0.3MP hi704 (640x480) front, 0.3MP hi704 (640x480) rear
The ENET E714F is a cheap chinese tablet , a clone of the Q8 tablet.
Identification
On the back of the device, the following is printed:
ENET E714F
E714F
The PCB has the following silkscreened on it:
BM750_V3.12
2015 10_12
In android, under Settings->About Tablet, you will find:
Model Number: E714F
Build Number: 207_polaris_uarmmid-eng 4.4.2 KVT49L 20160518.test-keys
Sunxi support
Current status
supported under mainline u-boot and mainline kernel.
HW-Pack
BSP
Manual build
You can build things for yourself by following our Manual build howto and by choosing from the configurations available below.
U-Boot
Sunxi/Legacy U-Boot
not supported
Mainline U-Boot
Use the "q8_a23_tablet_800x480_defconfig" build target.
Linux Kernel
Sunxi/Legacy Kernel
not supported
Mainline kernel
Use the "sun8i-a23-q8-tablet.dtb" device-tree binary.
FEL mode
The Volume+ button triggers FEL mode.
Device specific topic
Although the Soc is labeled A33 Quad Core, and The android say QuadCore-A33 , this is actually An A23 Soc !
Adding a serial port (voids warranty)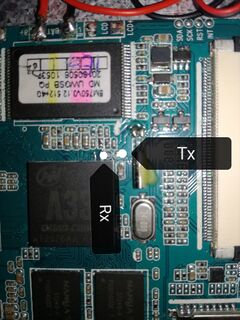 Device disassembly
See the Q8 tablet format disassembly page.
Locating the UART
the exposed UART pads are for R_UART These pads correspond to PL2/3 , and doesn't provide output under stock android , but works with mainline u-boot and mainline kernel , UART pads are located very near the SoC on the upper right corner , see the photo . please refer to UART howto for more information
Pictures
See also