Zeki TB782B
Jump to navigation
Jump to search
Zeki TB782B
Manufacturer
Zeki
Dimensions
196mm x 122mm x 13mm
Release Date
June 2012
Website
Product page
Specifications
SoC
A10 @ 1Ghz
DRAM
1GB DDR3 @ xxxMHz
NAND
8GB NAND
Power
DC 5V @ 3A, 2800mAh 3.7V Li-Ion battery
Features
LCD
7" 800x480
Touchscreen
5-point capacitive multi-touch (Manufacturer device FIXME)
Video
HDMI (Type C - mini)
Audio
3.5mm headphone plug, HDMI
Network
WiFi 802.11 b/g/n
Storage
µSD
USB
1 USB2.0 OTG
Camera
0.3MP (640x480) front-facing
This page needs to be properly filled according to the New Device Howto and the New Device Page guide.
Identification
In android, under Settings->About Tablet, you will find:
Model Number: TB782B
Build Number: A10_sun4i_crane *
Sunxi support
Current status
No patches have been submitted.
Images
HW-Pack
BSP
Manual build
For building u-boot, use the "

MANUFACTURER_DEVICE

" target.
The .fex file can be found in sunxi-boards as MANUFACTURER_DEVICE.fex
Everything else is the same as the manual build howto.
Tips, Tricks, Caveats
FEL mode
There is a pinhole on right side that triggers FEL mode.
Adding a serial port (voids warranty)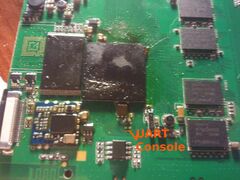 Device disassembly
Start from the top left area. gently insert your plastic tool into the gap and go around the complete tablet counter-clockwise. there are no screws holding the tablet in place and no ribbons to be careful of.
Locating the UART
There pads to the immediate left of the SoC are RX and TX, just solder on some wires according to the UART howto.
Pictures
This device urgently needs a set of decent pictures, as the first set was taken rather hastily and was never steady.
Also known as
See also