Trio Stealth Pro
Jump to navigation
Jump to search
Trio Stealth Pro
Manufacturer
Trio
Dimensions
widthmm x breadthmm x heightmm
Release Date
Month year
Website
Product page
Specifications
SoC
A10 @ 1Ghz
DRAM
1GB DDR3 @ xxxMHz
NAND
8GB
Power
DC 5V @ 1.5A, 2800mAh 3.7V Li-Ion battery
Features
LCD
800x480 9.7"
Touchscreen
X-Finger Capacitive (FocalTech FT5x06)
Video
HDMI (Type C - mini)
Audio
3.5mm headphone plug, HDMI
Network
WiFi 802.11 b/g/n (Realtek RTL8188???)
Storage
µSD
USB
1 USB2.0 OTG
Camera
0.3MP (640x480) front, 0.3MP (640x480) rear
This page needs to be properly filled according to the New Device Howto and the New Device Page guide.
Identification
In android, under Settings->About Tablet, you will find:
Model Number: TRIO-97C
Build Number: crane_cube-eng 4.0.4 IMM76D 20130515
Sunxi support
Current status
Images
HW-Pack
BSP
Manual build
For building u-boot, use the "

MANUFACTURER_DEVICE

" target.
The .fex file can be found in sunxi-boards as MANUFACTURER_DEVICE.fex
Everything else is the same as the Manual build howto.
Tips, Tricks, Caveats
FEL mode
The something button triggers FEL mode.
Adding a serial port (voids warranty)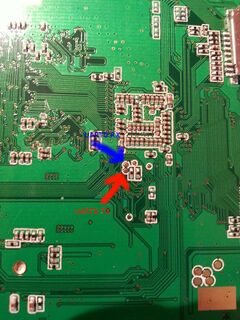 Device disassembly
The device is easily disassembled by sliding your plastic tool between the metal back plate and the black plastic ring around the edge of the device.
Locating the UART
The UART0 RX/TX pins are identified in the picture to the right. The red arrow points to UART0_TX and the blue arrow points to UART0_RX. These pads are located on the back side of the PCB.
Pictures
Also known as
See also