Tanix TX6s
Jump to navigation
Jump to search
Tanix TX6s
Manufacturer
Tanix
Dimensions
width 113mm (including antenna - 100mm excluding the antenna) x breadth 100mm x height 20mm (100mm if antenna vertical)
Release Date
Late 2019
Website
Tanix TX6s Product Page
Specifications
SoC
H616 @ 1.51Ghz
DRAM
2/4GiB DDR3 @ 1600MHz, 8 * Micron D9PQL MT41K1G4RH-125:E
NAND
16/32/64GB (SCY)
Power
DC 5V @ 2A
Features
Audio
HDMI, SPDIF
Network
WiFi 802.11 a/b/g/n/ac (Ampak AP6330), 10/100Mbps Ethernet (Integrated H616 PHY)
Storage
µSD, eMMC
USB
2 USB2.0 Host, 1 USB3.0
This page needs to be properly filled according to the New Device Howto and the New Device Page guide.
Identification
On the back of the device, the following is printed, along with a serial number and mac address:
Model: TX6S-H
The PCB has the following silkscreened on it:
CS_H616_TX6S_B4_V3.0
20191218
In android, under Settings->About Tablet, you will find:
Model: TX6s
Kernel version: 4.9.170 #10 Tue Dec 15:15:02 CST 2020
Build: cupid_p1-userdebug 10 QP1A.191105.004 eng.hanxia. 20201219.091846 test-keys
General Notes
The device is shipped with an eMMC with Android installed
I have uploaded console logs to capture the starting point with this board.
u-boot 2021.04 environment (boot from TF)
serial bootlog (minimyth2 - 20210529)
Sunxi support
Current status
The basis of the H616 SoC mainline effort has been included in 5.12. Preliminary Linux and Trusted Firmware patches are available and are in the process of being mainlined. H616 U-Boot support has been merged into v2021.04. The Tanix TX6s is not yet included in current 5.12 kernel. The sun50i-h616-tanix-tx6s.dts and tanix_tx6s_defconfig are in the process of being upstreamed.
Manual build
You can build things for yourself by following our Manual build howto and by choosing from the configurations available below.
U-Boot
Mainline U-Boot
Use the tanix_tx6s_defconfig build target.
Linux Kernel
Mainline kernel
Use the sun50i-h616-tanix-tx6s.dtb device-tree binary.
Tips, Tricks, Caveats
The PCB is mounted upside down in the case, so the connectors are all flipped over (USB, SD card, HDMI, Ethernet).
FEL mode
Left of the SD-card slot, there is a button (barely) visible through the ventilation slots. It triggers FEL mode mode when held down while resetting or powering up. On the PCB this button is not marked (there is another button not marked between SPDIF and the 2 USB 2.0 on the back). You will need a USB-A <-> USB-A cable for FEL mode.
Chips/ICs
Manufacturer
Part
Description
Kernel Config
Kernel Driver / Description
Specification
Allwinner
H616
Allwinner H616 (sun50iw9p1) is a SoC that features a Quad-Core Cortex-A53 ARM CPU, and a Mali-G31 MP2 GPU from ARM
FPE
H16101MC
10/100 Base-T Transformer Modules Compliant With IEEE 802.3 standards including Baseline Wander Compensation specification of 350 H OCL when biased a.
dwmac_sun8i
Ampak
SP6330-X
Android is using Dongle Host Driver, version 1.579.77.41.11 // NVRAM version: AP6330_NVRAM_V1.0_20121130 // nvram_ap6330.txt // fw_bcm40183b2_ag.bin // config_ap6330.txt // clm.blob // F1 signature read @0x18000000=0x16044330 // F1 signature OK, socitype:0x1 chip:0x4330 rev:0x4 pkg:0x0 // Firmware: wl0: Jan 6 2014 15:11:29 version 5.90.195.89.13 FWID 01-72f124c5
Fuzhou Fuda Hisi Microelectronics Co., Ltd.
FD650B-S
fdhisi,fd650 // FD650: fd650_driver_init: FD650 Driver init. // FD650: NOTE: register_fd650_driver:::register fd650 driver success. Not yet upstream. See https://lore.kernel.org/lkml/

[email protected]

/ for discussions on LED/VFD upstream.
Shenzhen X-Powers Technology Co., Ltd
AXP305
AXP305_POWER
axp305 pmic support
Micron
8 * D9PQL MT41K1G4RH-125:E
Package = (1G4) 1 Gig x 4 // Revision = (RH) 78-ball 9mm x 10.5mm FBGA // Speed Grade = (-125) = 1.25ns @ CL = 11 (DDR3-1600) // Target tRCD-tRP-CL = 11-11-11 // tRCD-tRP-CL (ns) = 13.75 // Revision = :E
1.35V DDR3L SDRAM // 800 MHz
SCY
sNAND E64GBIB62ABE00 / 2046-B1 110333
Device specific topic
This device uses DDR3L (not LPDDR3) memory!
Device is also equipped with 4-digit 7-segment display, driven by FD650B-S chip.
Adding a serial port (voids warranty)
Device disassembly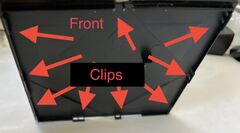 There are no screws holding the plastic lid in place.
To open the box, Gently slide a plastic tool or a knife in the small gap around all edges of the box to eventually lift the top plate, releasing 9 plastic tabs in the holding the cover. I started on the front, and then with a little leverage (in the front centre) was able to disengage the clips on the sides, and finally the back.
To remove the PCB, remove the 3 screws, then lift the side with the 7 segment display up, then gently pull this side the PCB up. This is allow you to then remove the PCB - the backside connectors somewhat protude into the backside of the case.
Locating the UART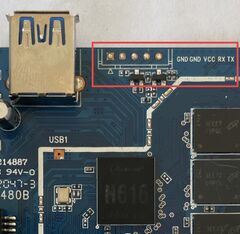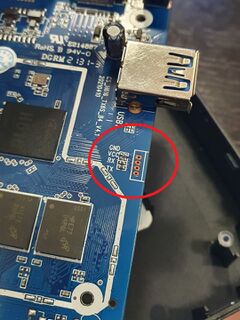 The UART pads are located beside the USB port on the side of board. They are marked as TX, RX and GND on the PCB. Just attach some leads according to the UART Howto. Speed is 152000.
Pictures
Take some pictures of your device, upload them, and add them here. DO NOT UPLOAD PICTURES WHICH YOU PLUCKED OFF THE INTERNET.
Also known as
There is also the TX6 TV box, sometimes selling alongside the TX6s. It uses the H6 Allwinner chip versus the H616 Allwinner chip.
See also
Add some nice to have links here. This includes related devices, and external links.
Manufacturer images