TZX-723Qa4
Jump to navigation
Jump to search
TZX-723Qa4
Manufacturer
Haehne?
Dimensions
196.3mm x 120.8mm x 9mm
Website
Missing product page.
Specifications
SoC
A33 @ 1.6Ghz
DRAM
512MiB DDR3
NAND
16GB
Power
DC 5V @ 1.5A, 200mAh 3.7V Li-Ion battery
Features
LCD
1024x768 (7" 16:9)
Touchscreen
5-finger capacitive (Silead GSL1680)
Audio
3.5mm headphone plug, internal speaker, internal microphone
Network
WiFi 802.11 b/g/n (RDA Microelectronics RDA5991),
Storage
µSD
USB
1 USB2.0 OTG
Camera
0.3 MP front, 2 MP rear
This page needs to be properly filled according to the New Device Howto and the New Device Page guide.
A Q8 style cheap tablet, but with an A33 SoC.
Identification
On the back of the device, the following is printed:
The PCB has the following written on it:
TZX-723Qa4

Sunxi support
Current status
Following devices are unsupported:
Wifi RDA5991
GSL1680 touch input
Accelometer Dmard09 or bma150?
Images
HW-Pack
BSP
Fex file
Manual build
For building u-boot, use the q8_a33_tablet_1024x600_defconfig target.
The .fex file can be found in sunxi-boards as TZX-723Qa4.fex
Mainline U-Boot
Supported in the mainline u-boot git 'master' branch.
Mainline kernel
Use the sun8i-a33-q8-tablet.dts device-tree file for the mainline kernel.
Tips, Tricks, Caveats
Retrieving script.bin
Unlike, other allwinner devices,Script.bin is not present in the vfat partition(nanda) as file.
Instead, It is located 0x43000000, it's size is 0x00020000. script.bin can be extracted from /dev/mem using mmap().
Adding a serial port (voids warranty)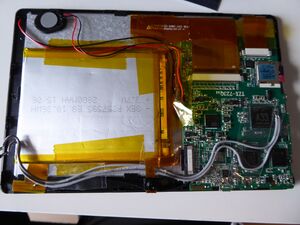 Device disassembly
Pictures
See also