TXCZ A20
Jump to navigation
Jump to search
This HTPC uses the same formfactor as the Langcent H6S but has a different board and therefor different settings.
Identification
The board has "TXCZ_A20_V1.0" printed on it. (There are some other devices existing with different versions numbers such as TXCZ_A20_V3.0 but they have a completely different form factor. They do report using the same model and similar build number, though, so perhaps they're compatible.)
In android, under Settings->About Tablet, you will find:
Model Number: BBA22
Build Number: BBA22-UI4-V2.0.4
Sunxi support
Current status
Supported.
Issue: There appears to be some issues with the PHY drivers. This results in not being able to properly detect if a cable is connected to the ethernet port (it thinks there's always one connected regardless). If you're using a connection manager that tries to maintain a single connection you'll have problems.
Images
HW-Pack
BSP
Manual build
For building u-boot, use the TXCZ_A20 target.
The .fex file can be found in sunxi-boards as txcz_a20.fex
Everything else is the same as the manual build howto.
Tips, Tricks, Caveats
FEL mode
Due to a lack of USB device ports, FEL is not possible.
Adding a serial port (voids warranty)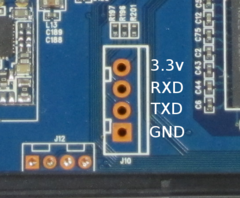 Device disassembly
There are no screws, only plastic clips. There is one clip on each of the 4 corners and one in the middle of each side excluding the back (so 7 clips in total). Just turn the device upside down and gently push your plastic tool between bottom and top cover until they release.
Locating the UART
There is a 4 hole connector labeled J10, all you need to do is solder on some wires according to our UART howto.
Pictures
Manufacturer provided pictures of a pre-production board:
Also known as
Visson Android Tv Box H1
Visson Android Tv Box H3 (slightly different plastic box, but same inside)
Sunchip SDK-728 and SDK-828 (looks identical, but needs verification)
See also
Langcent H6S: a highly similar device using the same formfactor.
Manufacturer images