Langcent h6s
Jump to navigation
Jump to search
Langcent h6s
Manufacturer
Langcent
Dimensions
150mm x 93mm x 23mm
Release Date
October 2013
Website
H6S product page
Specifications
SoC
A20 @ 1Ghz
DRAM
512MiB DDR3 @ 360MHz
NAND
4GB
Power
DC 5V @ 2A
Features
Video
HDMI (Type A), 3.5mm AV connector
Audio
3.5mm AV connector, HDMI, SPDIF
Network
WiFi 802.11 b/g/n (Realtek RTL8188EUS), 10/100Mbps Ethernet (Realtek RTL8201CP)
Storage
SD
USB
3 USB2.0 Host
This page needs to be properly filled according to the New Device Howto and the New Device Page guide.
Identification
Find out the strings as reported under settings.
In android, under Settings->About Tablet, you will find:
Model Number:

DEVICE

Build Number:

SOC_BOARD_DEVICE_*.*
Sunxi support
Current status
Supported.
Images
HW-Pack
BSP
Manual build
For building u-boot, use the "Langcent_H6S_config" target.
The .fex file can be found in sunxi-boards as hd12-a20-v1.fex
Everything else is the same as the manual build howto.
Tips, Tricks, Caveats
FEL mode
VERIFY ME: There is a button between DC-IN and SPDIF connectors that might trigger FEL mode.
Adding a serial port (voids warranty)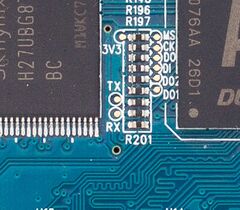 Device disassembly
There are no screws, only clips. Just turn the device upside down and push your plastic tool between bottom and top cover.
Locating the UART
There are RX and TX pads between the flash chip and the SoC. Just solder on some wires according to the UART howto.
Pictures
Also known as
See also