Q88
Jump to navigation
Jump to search
Q88
Manufacturer
Manufacturer
Dimensions
182mm x 120mm x 10mm
Release Date

Month year

Website
Device Product Page
Specifications
SoC
A13 @ 1Ghz
DRAM
512MiB DDR3 @ xxxMHz
NAND
4/8GB
Power
DC 5V @ 3A, 3700mAh 3.7V Li-Ion battery
Features
LCD
800x480 (7" 16:9)
Touchscreen

X

-finger capacitive (

TODO:

Manufacturer device FIXME)
Audio
3.5mm headphone plug, internal speaker, internal microphone
Network
WiFi 802.11 b/g/n (Realtek RTL8188CTV)
Storage
µSD
USB
1 USB2.0 OTG
Camera
0.3MP (640x480) front
This page needs to be properly filled according to the New Device Howto and the New Device Page guide.
Identification
This section explains how to most easily identify your device. For a development board, explain the name(s) printed on the board. For an android device, find out the strings as reported under settings.
In android, under Settings->About Tablet, you will find:
Model Number:

DEVICE

Build Number:

SOC_BOARD_DEVICE_*.*
Retrieved by other means
Name in build.prop: A13-MID
Product name: nuclear-pfdq88
Device name: nuclear
Board name: Q88
Sunxi support
Current status
Supported.
Images
Add MANUFACTURER DEVICE specific sunxi ROM images here. E.g. a livesuit image or some other linux image which uses linux-sunxi code.
HW-Pack
Add MANUFACTURER DEVICE HW-pack specifics here.
BSP
Add MANUFACTURER DEVICE BSP specifics here.
Manual build
For building u-boot, use the "

MANUFACTURER_DEVICE

" target.
The .fex file can be found in sunxi-boards as MANUFACTURER_DEVICE.fex
Everything else is the same as the manual build howto.
Tips, Tricks, Caveats
Add MANUFACTURER DEVICE specific tips, tricks, Caveats and nice to have changes here.
FEL mode
The something button triggers FEL mode.
Device specific topic
...
Adding a serial port (voids warranty)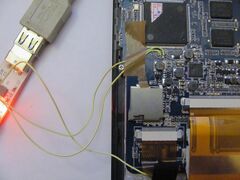 Device disassembly
See the Q8 tablet format disassembly page.
Locating the UART
There are two pads between the SoC and the SD slot. They might be multiplexed with the SD-Card. On the v1.2 board, the left pad is RX and the right pad is TX. Attach some wires according to our UART howto.
Pictures
Take some pictures of your device, upload them, and add them here.
Also known as
YeahPad A13 (

Verify!

)
RoverPad 3W T74L(GF) (

Verify!

)
EVOQ QPAD710A (

Verify!

)
Lark FreeMe 70.6 (

Verify!

)
See also
Add some nice to have links here. This includes related devices, and external links.