Pineriver H25
Jump to navigation
Jump to search
Pineriver H25
Manufacturer
pineriver
Dimensions
102mm x 35mm x 15mm
Release Date
December 2012
Website
Device Product Page
Specifications
SoC
A10s @ 1008Mhz
DRAM
1GiB DDR3 @ 408MHz
NAND
4GB
Power
DC 5V @ 0.5A
Features
Video
HDMI (Type A - full)
Audio
HDMI
Network
WiFi 802.11 b/g/n (Realtek RTL8189ES)
Storage
µSD
USB
2 USB2.0 Host, 1 USB2.0 OTG
This page needs to be properly filled according to the New Device Howto and the New Device Page guide.
Identification
The mainboard reads H25_01_MAIN_V3.0.
In android, under Settings->About Tablet, you will find:
Model Number: h25
Build Number: elite_h25-eng 4.0.4 IMM76D
Sunxi support
Current status
Supported.
HW-Pack
Add link so people know what to do with this information. from the BSP using pineriver_h25
BSP
Add link so people know what to do with this information. configure the BSP using pineriver_h25
Manual build
For building u-boot, use the "pineriver_h25" target.
The .fex file can be found in sunxi-boards as pineriver_h25.fex
Everything else is the same as the manual build howto.
Tips, Tricks, Caveats
FEL mode
The reset Where??? button triggers FEL mode.
Adding a serial port (voids warranty)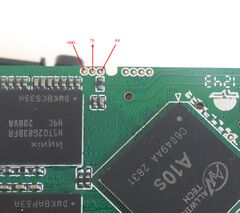 Device disassembly
The case has 2 screws which should be removed first. Then use your Plastic tool to gently push the back cover outwards to pop the remaining clips.
Locating the UART
The UART can be found between the A10s and one of the memory chips. There are 2 sets of pads, one with 4 pins, one with 3. The 3 pins is the UART, with RX, TX and GND from left to right, when the A10s text is best readable. See the UART howto for more info.
Pictures
Add pictures from the sides so people can use that to further identify this device.
Jesurun Xplus H25 Side1.JPG

Jesurun Xplus H25 Side2.JPG
Also known as
See also
Manufacturer images