Miniand Hackberry
Jump to navigation
Jump to search
Miniand Hackberry
Manufacturer
Miniand
Dimensions
85.60mm x 54mm x heightmm
Release Date
September 2012
Website
Hackberry Product Page
Specifications
SoC
A10 @ 1Ghz
DRAM
512MiB/1GiB DDR3 @ 408MHz
NAND
4GB (also limited edition 8GB model)
Power
DC 5V @ 1A
Features
Video
HDMI (Type A - full), AV connector, YPbPr connector
Audio
3.5mm microphone plug, HDMI, AV connector
Network
WiFi 802.11 b/g/n (Realtek RTL8188CUS), 10/100Mbps Ethernet (Realtek RTL8201CP)
Storage
SD
USB
1 USB2.0 Host, 1 USB2.0 OTG (lower one)
The hackberry is an A10 "development" board which has no external headers.
Identification
Unfortunately there's no branding printed on this board to help identify it, but a visual inspection of the pictures should help you identify it. The PCB board is also red.
In android, under Settings->About Tablet, you will find:
Model Number: TV_T100
Build Number: 4.0.4 IMM76D 20120920 test-keys
Sunxi support
Current status
Supported.
Images
HW-Pack
BSP
Manual build
For building u-boot, use the "Hackberry" target.
The .fex file can be found in sunxi-boards as hackberry.fex
Everything else is the same as the manual build howto.
Mainline kernel
Use the sun4i-a10-hackberry.dts device-tree file for the mainline kernel.
Tips, Tricks, Caveats
FEL mode
THIS IS UNTESTED
The Reset button (just under the DC jack) triggers FEL mode on the OTG USB port (the lower one).
Adding a serial port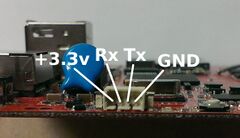 Recently the Hackberry has been shipped with a 4 wire cable with male headers on each end that will fit into the UART port. You can refer to the picture for the pin-outs and read the UART howto on how to use this.
Pictures
Also known as
There are no rebadgers for this type of device.
See also