LinkSprite pcDuino Lite
Jump to navigation
Jump to search

This device is very similar to the LinkSprite pcDuino. The main difference is that it has 512M of RAM instead of 1G.
Identification
This section explains how to most easily identify your device. For a development board, explain the name(s) printed on the board. For an android device, find out the strings as reported under settings.
On the back of the device, the following is printed:
Manufacturer Marketing Name
ModelNumber
The PCB has the following silkscreened on it:
LIA-BB-V6.66
1970-01-01
In android, under Settings->About Tablet, you will find:
Model Number:

DEVICE

Build Number:

SOC_BOARD_DEVICE_*.*
Sunxi support
U-Boot
Mainline U-Boot
Using the Linksprite_pcDuino_defconfig build target works with u-boot v2019.01.
Linux Kernel
Mainline kernel
At the time of writing, there is no pcDuino Lite dts in Linux, but when using the sun4i-a10-pcduino.dts device-tree file of the mainline kernel, many peripheral work out of the box.
Status with linux-libre 5.3.1-gnu-1 in Parabola:
microSD works: booted with the rootfs on it
Ethernet works
The two USB host port work: tested with an USB key
Tips, Tricks, Caveats
Add MANUFACTURER DEVICE specific tips, tricks, Caveats and nice to have changes here.
FEL mode
The something button triggers FEL mode.
Locating the UART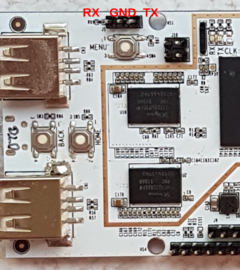 The RX, TX, and GND pins are located near the MENU button as shown in tthe picture. Just attach some leads according to our UART Howto.
Pictures
Take some pictures of your device, upload them, and add them here. DO NOT UPLOAD PICTURES WHICH YOU PLUCKED OFF THE INTERNET.
Also known as
List rebadged devices here.
TODO
Find the schematics, vendor images, vendor source code and document the differences with the pcDuino
If relevant, send patches in upstream Linux and u-boot to support the pcDuino Lite
Complete the missing section in this wiki page
See also