Inet k100c
Jump to navigation
Jump to search
Inet k100c
Manufacturer
Inet
Dimensions
261mm x 165mm x 12mm
Release Date
April 2013
Website
Missing Product Page
Specifications
SoC
A20 @ 1Ghz
DRAM
1GiB DDR3 @ 384MHz
NAND
8GB
Power
DC 5V @ 2A, 6000mAh 3.7V Li-Ion battery
Features
LCD
1024x600 (10.1" 16:9)
Touchscreen
capacitive (FocalTech FT5402DQT)
Video
HDMI (Type C - mini)
Audio
3.5mm headphone plug, HDMI, mic, stereo speakers
Network
WiFi 802.11 b/g/n (Realtek RTL8188ETV)
Storage
µSD
USB
1 USB2.0 Host, 1 USB2.0 OTG
Camera
0.3MP (640x480) front, 2MP (1920x1080) back
Identification
In android, under Settings->About Tablet, you will find:
Model Number: MID
Build Number: K100C-L1-D35-20130920
Sunxi support
Current status
Basic u-boot and kernel works.
The LVDS panel works if a clock is added in fex file.
Touch chip (focaltech ft0402) is initialized and i2c irq seems to work, but no valid data is present. With evtest garbage data appears when touching screen, but no valid coordinates.
Images
HW-Pack
BSP
Manual build
For building u-boot, use the "K1001L1C" target.
The .fex file can be found in sunxi-boards as k1001l1c.fex
Everything else is the same as the Manual build howto.
Tips, Tricks, Caveats
FEL mode
The back button triggers FEL mode.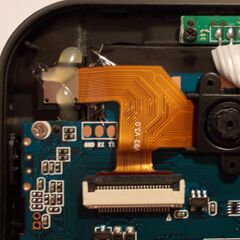 LVDS panel
TODO.
Adding a serial port (voids warranty)
Device disassembly
Remove the 2 screws on the connector side. The screen edge extends beyond the connectors, and with the device lying on its display, gently push the outer rim out with your plastic tool. You will soon hear the clamps pop.
Locating the UART
There are clearly labeled pads, on the top left edge, near the camera, you just need to solder on some wires. For more info, refer to the UART howto.
Pictures
Also known as
The motherboard is named Inet K100, and the variant shown here is a K100-C (from the sticker on the top of the board).
GD Ippo K1001
Noname or iRulu K1001L1
Also sometimes called CF-66
Serioux Surya Fun SMO10DC
See also