Inet 3fbt
Jump to navigation
Jump to search
Inet 3fbt
Manufacturer
Inet-Tek
Dimensions
243 mm x 190 mm x 12 mm
Release Date
May 2012
Website
Missing product page
Specifications
SoC
A10 @ 1 GHz
DRAM
1 GiB DDR3 @ 360 MHz
NAND
16 GB
Power
DC 5 V @ 500 mA minimum, 4500 mAh 3.7 V Li-Ion battery
Features
LCD
1024x768 (10" 4:3)
Touchscreen
5-finger capacitive (Focaltech FT5406EE8)
Video
HDMI (Type C - mini)
Audio
3.5 mm headphone plug, mini HDMI, internal "stereo" speakers
Network
WiFi 802.11 b/g/n (Broadcom BCM40183)
Storage
µSD
USB
1 USB2.0 Host, 1 USB2.0 OTG
Camera
0.3 MP (640x480) front, 2.0 MP (1920x1080) rear
Identification
The PCB has the following silkscreened on it:
INET-3FBT-REV01
2012-06-22
In Android on the Kogan Agora, under Settings->About Tablet, you will find:
Model Number: KATBL10A16DA
Build Number: KoganAgoraICS4.0
Sunxi support
Current status
Supported
Manual build
For building U-Boot, use the INet_3FBT target.
The .fex file can be found in sunxi-boards as inet_3fbt.fex
Everything else is the same as the manual build howto.
Tips, Tricks, Caveats
Power supply / Charging
This board has a separate barrel socket for a 5 V power supply, however it will also charge off the micro-USB "computer" port.
There is a reset button next to the UART pads accessible through a hole in the back of the case.
FEL mode
The Vol+ (middle) button triggers FEL mode.
Alternatively, an "U-Boot" pad is available on the PCB near the WiFi chip. (On the front at the top, to the left of the antenna connection)
WiFi
Wifi chip is part of a shared Wifi/Bluetooth module called iNet i10 T0C601C. This has a Broadcom BCM40183 chip embedded in it.
Adding a serial port (voids warranty)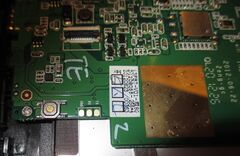 Device disassembly
Remove two screws from the connector side. Carefully insert your plastic tool between the metal back cover and the frame, and gently push the frame to the outside until the clips release. Go all around until all clips have release.
Since the Kogan Agora tablet has the same case as the Eken A90 style tablets, this youtube video might also help.
Be careful when opening the device though, as the speakers are glued to the back cover.
Locating the UART
The UART pads are nicely silkscreened on the board, under the touchscreen cable, right next to the reset button. All you have to do is solder on some wires according to our UART howto.
Pictures
Found in
Kogan Agora 10" 16 GB (as documented on this page).
Kraun ktab 9.7 9704DD
Mediatek 930i
See also
The Inet 3f is a cut down version of this tablet, lacking bluetooth.