Inet 1
Jump to navigation
Jump to search
Inet 1
Manufacturer
Inet-Tek
Dimensions
267mm x 164mm x 14mm (680g)
Release Date
December 2011
Website
Rebadger Product Page
Specifications
SoC
A10 @ 1Ghz
DRAM
512MiB DDR3 @ 432MHz
NAND
4GB
Power
DC 5V @ 2A, 5000mAh 3.7V Li-Ion battery
Features
LCD
1024x600 (10" 10:6)
Touchscreen
5-finger capacitive (2x Focaltech FT5301)
Video
HDMI (Type C - mini)
Audio
3.5mm headphone plug, HDMI, internal speaker, internal microphone
Network
WiFi 802.11 b/g/n (Realtek RTL8188CTV)
Storage
µSD
USB
1 USB2.0 Host, 1 USB2.0 OTG
Camera
0.3MP (640x480) front
This page needs to be properly filled according to the New Device Howto and the New Device Page guide.
Identification
In android, under Settings->About Tablet, you will find...
Point of View Protab2 XXL
Model Number: TAB-Protab2XXL(4)
Kernel Version: 3.0.8+ paco@Inet #7
Build Number: 01F2-D1-H1-H01-1703.20120301
Cherry M1007
Model Number: PC1007
Baseband Version: inet1.0_20
Kernel Version: 3.0.8+ inet._ldw@inetsuperserver #5 Mon Dec 17 20:39:56 CST 2012
Build Number: 01F2-D1-H1-H01-1744-20121217
Sunxi support
Current status
sunxi-boards support is still missing. TODO: add info about the fex and dts files that were added in September 2015
Images
HW-Pack
BSP
Manual build
For building u-boot, use the "PoV_ProTab2_XXL" target.
The .fex file can be found in sunxi-boards as MANUFACTURER_DEVICE.fex
Everything else is the same as the manual build howto.
Tips, Tricks, Caveats
FEL mode
There is a button between power connector and Mini USB connector which triggers FEL mode.
FT5X touchscreen issues
To make ft5x touchscreen work with X you need to recompile ft5x_ts module as described at Rhombus Tech after commenting out CONFIG_FT5X0X_MULTITOUCH in drivers/input/touchscreen/ft5x_ts.h.
The module is availabe for kernel 3.0.39+ here: [1]
The screen dimensions and axes will be confused. You will need to change your script.bin as described at eLinux.org like following:
ctp_screen_max_x = 600
ctp_screen_max_y = 1024
Axes can then be swapped with the Debian package xinput by running:
xinput set-prop ft5x_ts "Evdev Axes Swap" 1
Adding a serial port (voids warranty)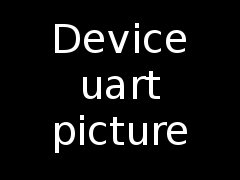 Device disassembly
By removing the two screws on the connector side, the device is trivially opened.
Locating the UART
There are some clearly marked UART pads in the top left corner of the board, all you need to do is solder on some wires according to our UART howto.
Pictures
Take some pictures of your device, upload them, and add them here.
Also known as
See also
Add some nice to have links here. This includes related devices, and external links.