Hcore hc860
Jump to navigation
Jump to search
Hcore hc860
Manufacturer
Cosmvision
Dimensions
130mm x 100mm x 35mm
Release Date
December 2012
Website
Product Page
Specifications
SoC
A10 @ 1Ghz
DRAM
1GB DDR3 @ 384MHz
NAND
4GB
Power
DC 5V @ 2A
Features
Video
HDMI (Type A), VGA, AV 3.5mm connector.
Audio
HDMI, AV breakout cable.
Network
WiFi 802.11 b/g/n (Realtek RTL8188CTV), 10/100Mbps Ethernet (Realtek RTL8201CP)
Storage
SD
USB
4 USB2.0 Host
Identification
In android, under Settings->About Tablet, you will find:
Model Number: SoftwinnerEvb
Kernel Version: 3.0.8 zjq@dell-PowerEdge-T710 #2 Thu Jan 17 11:59:39 CST 2013
Build Number: apollo_huangcheng-eng 4.0.4 IMM76D 20130118 test-keys
Sunxi support
Current status
Working.
Images
HW-Pack
BSP
Manual build
For building u-boot, use the "HCore_HC860" target.
The .fex file can be found in sunxi-boards as hcore_hc860.fex
Everything else is the same as the Manual build howto.
Tips, Tricks, Caveats
VGA connector
Like all devices derived from the Allwinner A10 reference board, this device does not have DDC support on its VGA connector, even though its connector is blue.
FEL mode
Forget it. There seems to be no USB device or OTG port available, so our lack of any buttons apart from power is not the only stumbling block to get to FEL mode.
Adding a serial port (voids warranty)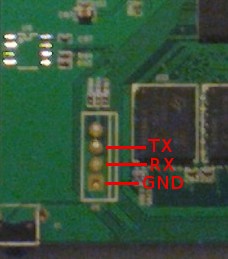 The UART is easy to spot on the mainboard and just needs some jumperwires soldered on.
Device disassembly
This set-top-box is trivially disassembled by removing some screws.
Locating the UART
The uart pads are located between the power-button and the ram chips. The top pin is Vcc and should not be connected. The bottom pin is obviously ground. The second pin from the top is TX. Just solder on some wires and attach a UART-USB module as described in our UART howto.
Pictures
Also known as
This device carries a big "tvpad3" logo on the top, but there are no known clones so far.
See also