HSG H702
Jump to navigation
Jump to search
HSG H702
Manufacturer
HannStar
Dimensions
181mm x 121mm x 10.5mm
Release Date
April 2013
Website
Unknown
Specifications
SoC
A13 @ 1Ghz
DRAM
512MiB DDR3 @ 432MHz (Micron MT41J256M16HA-125 256X16DDR3 HL)
NAND
4GB (Samsung K9GBG08U0A)
Power
DC 5V @ 2A, ????mAh 3.7V Li-Ion battery
Features
LCD
800x480 (7" 16:9)
Touchscreen
5-finger capacitive (Silead GSL1680)
Audio
3.5mm headphone plug, built-in microphone.
Network
WiFi 802.11 b/g/n (Realtek RTL8188ETV)
Storage
µSD
USB
1 USB2.0 OTG
Camera
640x480 (VGA) front-facing, Optional rear-facing camera
A standard Q8 format, A13 based tablet, but with separate UART pads.
Identification
The PCB is clearly marked HSG_H702_V1.2.
In android, under Settings->About Tablet, you will find:
Model Number: SoftwinerEVB
Build Number: nuclear_evb-eng 4.0.4 IMM76D 20130418test-keys
The android strings are not helpful as both are generic A13 Allwinner strings. The only option to properly identify this device is by opening up the case and reading the markings on the board.
Sunxi support
Current status
Supported.
Images
HW-Pack
BSP
Manual build
For building u-boot, use the "A13_MID" target.
The .fex file can be found in sunxi-boards as hsg_h702.fex
Everything else is the same as the manual build howto.
Mainline kernel
Use the sun5i-a13-hsg-h702.dts device-tree file for the mainline kernel.
Tips, Tricks, Caveats
FEL mode
The Volume+ button triggers FEL mode.
Adding a serial port (voids warranty)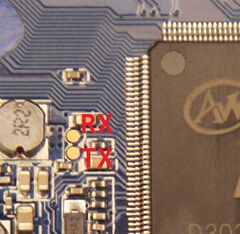 Device disassembly
See the Q8 tablet format disassembly page.
Locating the UART
On the front of the mainboard, there are two test pads next to the SoC. Solder on some wires according to our UART howto. These pads are connected to UART1, and are not multiplexed with the SD card.
Pictures
Also known as
See also