GoClever Tab A73
Jump to navigation
Jump to search
GoClever Tab A73
Manufacturer
GOCLEVER Technology Co Ltd.
Dimensions
192mm x 122mm x 12mm
Release Date
November 2011
Website
Archived product Page
Specifications
SoC
A10 @ 1Ghz
DRAM
512MiB DDR3 @ 384MHz
NAND
4GB
Power
DC 5V @ 2A, 3400mAh 3.7V Li-Ion battery
Features
LCD
800x480 (7" 16:9)
Touchscreen
5-finger capacitive (FocalTech FT5306DE4)
Video
HDMI (Type C - mini)
Audio
3.5mm headphone plug, HDMI, internal speaker, internal microphone
Network
WiFi 802.11 b/g/n (Realtek RTL8192CUS)
Storage
µSD
USB
1 USB2.0 OTG
Camera
0.3MP (640x480) front
This page needs to be properly filled according to the New Device Howto and the New Device Page guide.
libv> there seem to be 3 different board versions, but no pictures of any boards are apparently available. I fear that this device will end up being a rebadger of either a A710 or A721.
Different motherboard versions
There were 3 hardware versions (HwvX) released by GoClever. They have a different PCB, camera or g-sensor:
| Hardware version | Serial numbers | Camera module | G-sensor (module) | Available Android versions (official) |
| --- | --- | --- | --- | --- |
| HWv1 | GCA731111XXXX | GC0308 | MMA7660 | 2.3.4, 4.0.3 |
| HWv2 | GCA731201xxxx - GCA731205xxxx | SP0838 | MXC622X | 2.3.4, 4.0.3 |
| HWv3 | GCTA731206xxxx | GC0308 | MXC622X | 4.0.4 |
GCTA731207XXXX is made with the parts that were in stock - there are some components from HWv2. and some from HWv3.
Identification
In android, under Settings->About Tablet, you will find:
Model Number: GOCLEVER TAB A73
Build Number: crane_evb-eng 4.0.3 IML74K 20120504 test-keys
Sunxi support
Current status
Unsupported. No patches were ever submitted.
Images
HW-Pack
BSP
Manual build
For building u-boot, use the "

MANUFACTURER_DEVICE

" target.
The .fex file can be found in sunxi-boards as MANUFACTURER_DEVICE.fex
Everything else is the same as the manual build howto.
Tips, Tricks, Caveats
Add MANUFACTURER DEVICE specific tips, tricks, Caveats and nice to have changes here.
FEL mode
The something button triggers FEL mode.
Touchscreen
In most situations, you will need to disable multitouch on the FT5X touchscreen driver (for instance, by commenting out CONFIG_FT5X0X_MULTITOUCH in drivers/input/touchscreen/ft5x_ts.h).
The kernel for HWv2 has a working driver.
meminfo
dram_clk = 384
dram_type = 3
dram_rank_num = 1
dram_chip_density = 2048
dram_io_width = 16
dram_bus_width = 32
dram_cas = 6
dram_zq = 0x7c
dram_odt_en = 0
dram_tpr0 = 0x30926692
dram_tpr1 = 0x1090
dram_tpr2 = 0x1a0c8
dram_tpr3 = 0x0
dram_emr1 = 0x4
dram_emr2 = 0x0
dram_emr3 = 0x0
This was not turned into a u-boot patch yet.
FEX
Adding a serial port (voids warranty)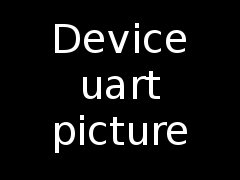 Device disassembly
Remove the 4 screws. Now gently push your Plastic tool between the plastic outer edge and the metal back cover. Try to go around the whole board until you hear some clips pop, and do this until all clips have released. Be careful when opening the device, as the Wifi antenna is taped to the back cover.
Locating the UART
Describe how to find the RX,TX,GND signals here, and mention the UART howto.
Pictures
V1
Take some pictures of your device, upload them, and add them here. DO NOT UPLOAD PICTURES WHICH YOU PLUCKED OFF THE INTERNET.
V2
V3
Take some pictures of your device, upload them, and add them here. DO NOT UPLOAD PICTURES WHICH YOU PLUCKED OFF THE INTERNET.
Also known as
Texet TM-7025 (1:1 clone of HWv1)
Vedia X7 (1:1 clone of HWv1)
Bmorn V11 (1:1 clone of HWv2)
Eken T02 (clone of HWv2/HWv3)
Saycool A720
See also