Foxconn Super Pi
Jump to navigation
Jump to search
Foxconn Super Pi
Manufacturer
Foxconn
Dimensions
91.5 mm x 60 mm
Release Date
unknown
Website
Super Pi Product Page(Currently broken)
Specifications
SoC
A20 @ 1 GHz
DRAM
1 GiB DDR3 @ 432 MHz
NAND
no (onboard) NAND available
Power
DC 5 V @ 2 A (micro USB)
Features
Video
HDMI (Type A - full), CVBS, LVDS
Audio
3.5 mm headphone plug, HDMI, internal microphone
Network
10/100/1000 Mbps Ethernet (Realtek RTL8211E)
Storage
SD, SATA (with power connector: JST XH 2.5mm header, providing +5V)
USB
2 x USB 2.0 Host, 1 x USB 2.0 OTG
This page needs to be properly filled according to the New Device Howto and the New Device Page guide.
The Foxconn Super Pi is essentially a Foxconn redesigned Banana Pi. The overall design shows clear relationship with the Banana Pi but the PCB layout and onboard connector positions are mostly different.
Identification
The board has "Super Pi REV:1.0" printed between the DSI connector and Ethernet port.
In android, under Settings->About Tablet, you will find:
Model Number: Super Pi
Build Number: abd_super1-eng 4.2.2 10SB 20141122
Firmware version: 2.1
Kernel Version: 3.4.39+ [email protected] #3 Sat Nov 22 03:20:27 EST 2014
Sunxi support
Current status
Patches awaiting inclusion in the sunxi repos.
Manual build
Mainline U-Boot
Use the MANUFACTURER_DEVICE build target.
Sunxi/Legacy Kernel
Use the MANUFACTURER_DEVICE.fex file.
Mainline kernel
Use the MANUFACTURER_DEVICE device-tree file, and follow the Mainline Kernel Howto.
Tips, Tricks, Caveats
FEL mode
The UBOOT button, located behind the Ethernet port, triggers FEL mode.
Powering the board
This board has severe UART backpower problem. While connected to another computer through a UART-USB dongle, the current leaked through RXD keeps the board in an slightly "working" state, preventing the board from properly powering up. To normally power cycle the device it is often needed to disconnect RXD temporarily.
Adding a serial port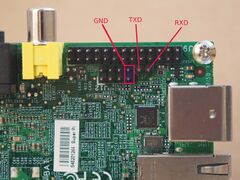 Locating the UART
The UART pins are located in the upper right corner of the board (connector J11 and J12), and the relative positions among the pins are the same as the Banana Pi. Just attach some leads according to our UART Howto.
Pictures
Manufacturer images
See also