Forfun Q88DB
Jump to navigation
Jump to search
A standard Q8 format, A13 based tablet, but with separate UART pads.
Identification
In android, under Settings->About Tablet, you will find:
Model Number: A13-MID
Build Number: nuclear_pfdq88d-eng 4.0.4 IMM76D 20130531
Sunxi support
Current status
Supported.
Images
HW-Pack
BSP
Manual build
For building u-boot, use the "Forfun_Q88DB" target.
The .fex file can be found in sunxi-boards as forfun_q88db.fex
Everything else is the same as the manual build howto.
Mainline U-Boot
Supported in the mainline u-boot git 'master' branch and scheduled for the v2015.04 release.
For building mainline u-boot, use the forfun_q88db board name.
Tips, Tricks, Caveats
FEL mode
The VOL+ button triggers boot0 FEL mode.
Adding a serial port (voids warranty)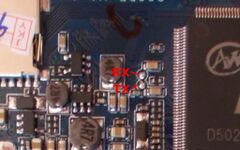 Device disassembly
See the Q8 tablet format disassembly page.
Locating the UART
There are two pads to the left of the SoC, just solder on some wires according to our UART howto. These pads are not multiplexed with the SD card.
Pictures
Also known as
Probably has many rebadgers.
Most commonly found as Forfun Q88DB
See also