Wedo HD22
Jump to navigation
Jump to search
Wedo HD22
Manufacturer
WeDo Innovation
Dimensions
93mm x 52mm x 17mm
Release Date
December 2012
Website
WeDO HD22
Specifications
SoC
A20 @ 1Ghz
DRAM
1GiB DDR3 @ 432MHz
NAND
8GB
Power
DC 5V @ 1.5A (0.75mm/2.35mm barrel plug - center positive)
Features
Video
HDMI (Type A - Full), 3.5mm A/V connector
Audio
HDMI, 3.5mm A/V connector, 3.5mm microphone connector, internal microphone
Network
WiFi 802.11 b/g/n (Realtek RTL8188ETV)
Storage
µSD
USB
1x USB2.0 Host, 1x USB2.0 OTG
Camera
5.0MP (2592x1944) front (Samsung S5K4EC/OmniVision OV5640)
The WeDoInnov HD22 is an A20 based HTPC designed to look like a webcam. It comes with a mounting bracket so it can sit on the top of a TV set.
Identification
In android, under Settings->About Tablet, you will find:
Model Number: TV BOX
Build Number: HD22_4.2.2_V2.0_20140422
Sunxi support
Current status
Everything but the Samsung S5K4EC camera is supported.
Images
HW-Pack
BSP
Manual build
For building u-boot, use the EU3000 target.
The .fex file can be found in sunxi-boards as eu3000.fex
Everything else is the same as the manual build howto.
Tips, Tricks, Caveats
FEL mode
There is an extra button on the PCB which can be pushed via small hole on the device's right side, in the middle before the grill. Push it during power up and it will enter into FEL mode.
Camera
Some of the early models have OmniVision OV5640 camera. More recent models come with the Samsung S5K4EC, for which no driver is currently available.
Adding a serial port (voids warranty)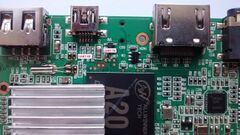 Device disassembly
The device is held together with three smalls screws and some plastic clips. Unscrew the three screws (one is under the QC label, this is slightly bigger then the rest), and a bit slide the bottom cover to the right (towards the two screw hole). This will unclip the plastics and you can easily detach them.
The PCB held in place by two screws on the top casing.
Locating the UART
The UART pads can be found between the SoC and USB OTG connector. Just solder on some wires according to our UART howto. Be careful though, as the pads are tiny.
Pictures
Also known as
See also
Manufacturer images