ViewSonic ViewPad 133Q
Jump to navigation
Jump to search
ViewSonic ViewPad 133Q
Manufacturer
ViewSonic
Specifications
SoC
A31s @ 1.2Ghz
DRAM
1GiB DDR3
NAND
16GB
Power
DC 5V @ 2.5A, 10000mAh 3.7V Li-Ion battery
Features
LCD
1280x800 (13.3" 16:10)
Touchscreen
10-finger capacitive (Goodix GT9110)
Video
HDMI (mini)
Audio
3.5mm headphone plug, HDMI, internal stereo speakers, internal microphone
Network
WiFi 802.11 b/g/n (Realtek RTL8723AU)
Storage
µSD
USB
1 USB2.0 OTG
This page needs to be properly filled according to the New Device Howto and the New Device Page guide.
Identification
This section explains how to most easily identify your device. For a development board, explain the name(s) printed on the board. For an android device, find out the strings as reported under settings.
On the back of the device, the following is printed:
平板电脑/Tablet PC
型号/Model: ViewPad 133Q
输入/Input: 5V 2.5A
中国制造/Made in China
制造商:优派环宇通信技术(北京)有限公司
In android, under Settings->About Tablet, you will find:
Model Number: ViewPad 133Q
Build Number: A31S_Q130_Q1301L1B_1404109.20140507
Sunxi support
Current status
Not supported yet.
Manual build
You can build things for yourself by following our Manual build howto and by choosing from the configurations available below.
U-Boot
Sunxi/Legacy U-Boot
Not supported yet.
Mainline U-Boot
Not supported yet.
Linux Kernel
Sunxi/Legacy Kernel
Not supported yet.
Mainline kernel
Not supported yet.
FEL mode
The Vol+ button triggers FEL mode.
Adding a serial port (voids warranty)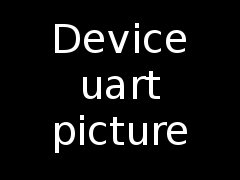 Device disassembly
Plastic tool howto can disassembly it easily.
Locating the UART
The UART pins are well-noted near the power key. Please refer to UART howto for more infomation.
Pictures
Take some pictures of your device, upload them, and add them here. DO NOT UPLOAD PICTURES WHICH YOU PLUCKED OFF THE INTERNET.
Also known as
See also
Manufacturer images