Olimex A20-SOM
Jump to navigation
Jump to search
Olimex A20-SOM
Manufacturer
Olimex
Dimensions
85mm x 54mm x 5mm
Release Date
May 2014
Website
Product page
Specifications
SoC
A20 @ 1 Ghz
DRAM
1GiB DDR3 @ 384MHz
NAND
4GB (optional)
Power
DC 6-16V @ 3A
Features
Video
HDMI (Type A)
Audio
3.5mm headphone plug, 3.5mm microphone plug, HDMI
Network
10/100Mbps Ethernet (Realtek RTL8201CP)
Storage
µSD, SD, SATA
USB
2 USB2.0 Host, 1 USB2.0 OTG
Olimex A20-SOM is an A20 based development board from our friends at Olimex.
Identification
The board helpfully reads "A20-SOM".
Sunxi support
Current status
Supported.
Images
HW-Pack
BSP
Manual build
For building u-boot, use the Olimex_A20-SOM target.
The .fex file can be found in sunxi-boards as olimex_a20_som_evb.fex
Everything else is the same as the manual build howto.
Tips, Tricks, Caveats
FEL mode
The Recovery button triggers FEL mode.
LCD Modules
Expansion Ports
LDO3 (Port E / CSI0 Power Supply) Problem
When the A20-SOM is connected to the A20-SOM-EVB base board sold by Olimex and the LDO3 of the AXP209 chip is initially switched off by uboot (which newer uboot versions do by default), LDO3 should never be re-enabled. Doing so leads to immediate shut down of the AXP209 resulting in a crash of the board. The reason seems to be too much capacitance on the lines connected to the LDO3 output and non-effective voltage rate control on the AXP209 for LDO3, leading to excessive inrush currents and triggering the overcurrent-protection of the AXP. See this thread on the mailing list for more details: https://groups.google.com/d/topic/linux-sunxi/EDvEsbHHqQI/discussion
Adding a serial port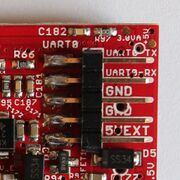 A nicely labeled UART connector is available, all you have to do is attach some leads according to our UART howto.
Pictures
Also known as
This type of device does not get rebadged.
See also