Olimex A13-SOM
Jump to navigation
Jump to search
Olimex A13-SOM
Manufacturer
Olimex
Dimensions
61mm x 32mm x 9.8mm
Release Date
June 2014
Website
Olimex A13 SOM
Specifications
SoC
A13 @ 1Ghz
DRAM
256MiB / 512MiB DDR3 @ 408 MHz
NAND
4GB (optional)
Power
DC 5V @ 2A
Features
Network
WiFi 802.11 b/g/n (Realtek RTL8188CU)
Storage
µSD
USB
1 USB2.0 OTG
Olimex A13-SOM is an A13 based, very small System on Module from the friendly company Olimex. Two versions are available, one with 256 MB and one with 512 MB RAM.
Identification
The name "A13-SOM" is printed on left border of the board (side with sdcard slot).
Sunxi support
Current status
Supported by sunxi kernel 3.4 and sunxi U-Boot.
Manual build
For building u-boot, use the OLIMEX-A13-SOM target.
The .fex file can be found in sunxi-boards as olimex_a13_som.fex
Everything else is the same as the manual build howto.
Mainline U-Boot
No mainline U-Boot support available.
Mainline kernel
Generic A13 support available, but no Device Tree file for the A13-SOM
FEL mode
The UBOOT/HOME button triggers FEL mode.
Adding a serial port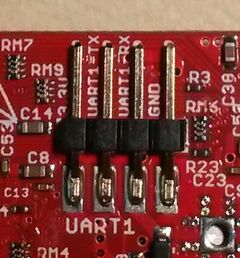 The UART Header is easy accessable.
Locating the UART
The UART connector is labeled just connect wires according to UART howto.
Pictures
Also known as
No rebadged devices.
See also