Navon iQ7 2020
Jump to navigation
Jump to search
Navon iQ7 2020
Manufacturer
Importer: HungaroFlotta Kft. (under liquidation)
Dimensions
191mm x 116mm x 11.7mm
Release Date
unknown
Website
[not applicable]
Specifications
SoC
A50 @ 1.5Ghz
DRAM
1GiB Samsung K4B2G0446Q-BYQ0 DDR3L
NAND
8GB SpecTek PFF62-10AL
Power
microUSB 5V @ 1.5A, 2500mAh 3.7V Li-Ion battery
Features
LCD
1024x600 (7")
Touchscreen
Capacitive (unknown)
Audio
3.5mm headphone plug, internal speaker
Network
XradioTech XR829
Storage
µSD, NAND
USB
microUSB combo host + OTG
Camera
2MP (1600x1200) GC2385 rear, VGA GC030A rear
Identification
On the back of the device, the following is printed:
NAVON
iQ7 2020
The PCB has the following silkscreened on it:
A50-86V-V2.0
08B-20200718
In android, under Settings->About Tablet, you will find:
Model Number: iQ7
Build Number: Navon_V1.00_20201023
Sunxi support
inexistent
Current status
no support
FEL mode
Holding VOL+, pressing and holding power for 2 seconds, then pressing power 3 times triggers FEL mode.
Adding a serial port (voids warranty)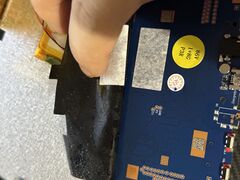 Has not been tested yet, should be 3.3V serial UART according to the UART howto. You need to remove the board from the housing and peel up the insulating layer from the board to find the exposed GND, TX, RX pads. The VOL+, VOL-, POWER buttons are separate plastic pieces from the housing, make sure you don't lose them. The following screws need to be unfastened from the board: one below MIC+ and MIC-, one above the PFF62-10AL 8GB NAND and the one above the CAM connector. The flex cables are held down with black pieces of adhesive you need to pull off carefully. The speaker, battery and wifi antenna are soldered to the board.
Device disassembly
Top two screws need to be unfastened and the back needs to be popped off using a guitar pick. Refer to the Plastic tool howto.
Pictures
Also known as
KRONO KIDS FIVE