Merrii Hummingbird A20
Jump to navigation
Jump to search
Merrii Hummingbird A20
Manufacturer
Merrii Vision
Dimensions
65mm x 100mm x 10mm
Release Date
November 2013
Website
Product page
Specifications
SoC
A20 @ 1Ghz
DRAM
1GiB DDR3 @ 480MHz
NAND
4GB
Power
DC 5V @ 2A (4.0mm/1.7mm barrel plug)
Features
Video
HDMI, CVBS (via Phone Jack), TV in(via Phone Jack)
Audio
3.5mm headphone plug, 3.5mm line-in plug, HDMI
Network
WiFi 802.11 b/g/n (Ampak AP6210), 10/100/1000Mbps Ethernet (Realtek RTL8211E)
Storage
µSD, SATA (+5v power)
USB
2 USB2.0 Host, 1 USB2.0 OTG
This page needs to be properly filled according to the New Device Howto and the New Device Page guide.
Identification
The board helpfully reads "Merrii Vision"(in Chinese), "www.merrii.com" on the PCB.
Sunxi support
Current status
Supported.
Images
HW-Pack
BSP
Manual build
For building u-boot, use the "Merrii_Hummingbird_A20" target.
The .fex file can be found in sunxi-boards as merrii_hummingbird_a20.fex
Everything else is the same as the manual build howto.
Mainline kernel
Use the sun7i-a20-hummingbird.dts device-tree file for the mainline kernel.
Tips, Tricks, Caveats
FEL mode
The "U-boot" button triggers FEL mode.
Adding a serial port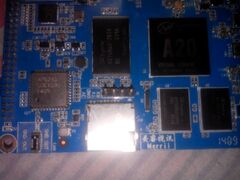 There is a nice 2.54mm pitch connector between the NAND and the µSD slot, the pin-out is printed right next to it. Just attach some leads according to our UART howto.
Pictures
Take some pictures of your device, upload them, and add them here.
Also known as
See also