Mele A210
Jump to navigation
Jump to search
Mele A210
Manufacturer
Mele
Dimensions
99 mm x 99 mm x 28 mm
Release Date
January 2013
Website
Missing product page.
Specifications
SoC
A10s @ 1 GHz
DRAM
512 MiB DDR3 @ 432 MHz
NAND
4 GB
Power
DC 5 V @ 2 A
Features
Video
HDMI (Type A - full)
Audio
HDMI
Network
WiFi 802.11 b/g/n (Realtek RTL8188EUS), 10/100 Mbps Ethernet (Realtek RTL8201CP)
Storage
SD
USB
2 x USB 2.0 Host
The Mele A210 is a cheap A10s based TV puck.
Identification
The device has a sticker on the bottom of the exterior where it is clearly marked as MELE and (Model): A210.
The board is marked as:
AB10S-G41A-V1.40-0
WLBM:831-2454140-90
2012-11-06
MELE A200 single core version's board (with a LAN port) has exactly the same mark.
In android, under Settings->SYSTEM->About device, you will find:
Model Number: Mele HTPC
Build Number: Mele HTPC 121219 Version 1.3
Sunxi support
Current status
Supported.
Images
HW-Pack
BSP
Manual build
For building u-boot, use the "Mele_A210" target.
The .fex file can be found in sunxi-boards as mele_a210.fex
extra Linux kernel patch [1] is needed
Everything else is the same as the manual build howto.
Tips, Tricks, Caveats
FEL mode
While you could use the UART to trigger FEL mode, there is little point in it as you'd probably first need to solder on a port to get USB OTG out of this device.
Adding a serial port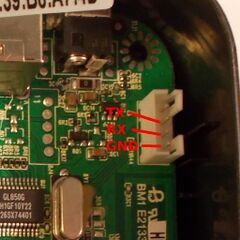 Device disassembly
There are four screws underneath the rubber feet at the bottom. Remove them, and your device will open.
Locating the UART
The Mele A210 has a 4 pin 2.0 pitch JST-PH connector for its UART. This is the same as some 90s analog audio cables which ran from a CDROM to the sound card. Wire things up according to our UART howto.
Pictures
Also known as
See also
Manufacturer images