Mele A100Dual Core
Jump to navigation
Jump to search
Mele A100Dual Core
Manufacturer
Mele
Dimensions
175 mm x 110 mm x 47 mm
Release Date
November 2013
Website
Product page
Specifications
SoC
A20 @ 1 GHz
DRAM
1GiB DDR3 @ 480 MHz
Power
DC 5 V @ 2 A
(4.0 mm / 1.7 mm barrel plug)
Features
Video
HDMI, CVBS, VGA
Audio
RCA connector/SPDIF/HDMI
Network
WiFi 802.11 b/g/n (Realtek RTL8188CUS), 10/100Mbps Ethernet (Realtek RTL8201CP)
Storage
Full-size SD
USB
3 x USB2.0 Host
Identification
The device helpfully reads "迈乐电子" "A100" "双核版" on the right side of the box.
Sunxi support
Current status
Supported.
Images
HW-Pack
BSP
Manual build
Mainline kernel
Tips, Tricks, Caveats
FEL mode
The "FEL" button triggers FEL mode.
Adding a serial port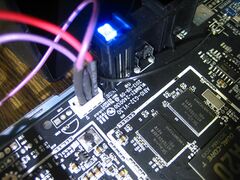 There is a nice 2.00 mm pitch connector near the blue led. Just attach some leads according to our UART howto.
Pictures
Take some pictures of your device, upload them, and add them here.
Also known as
See also