MXQ-4K
Jump to navigation
Jump to search
MXQ-4K
Manufacturer
Manufacturer
Dimensions
118mm x 118mm x 26mm
Release Date

Month year

Website
Device Product Page
Specifications
SoC
H3 @ 1.5 Ghz
DRAM
2GiB DDR3 @ 667MHz
NAND
16GB
Power
DC 5V @ 2A
Features
Video
HDMI (Type A), CVBS
Audio
3.5mm headphone plug, HDMI, SPDIF
Network
WiFi 802.11 b/g/n (XR819), 10/100 Ethernet (H1102NL)
Storage
SD
USB
4 X USB2.0 Host
This page needs to be properly filled according to the New Device Howto and the New Device Page guide.
If a device is special, then feel free to provide a terse description of what makes this device so special. But terse, no novels, no marketing blurb.
Identification
"MXQ-4K" logo embossed on top cover of the device.
The PCB has the following silkscreened on it:
MXQ_8X4_DDR3_V1.0
2018-05-09
In android, under Settings->About Tablet, you will find:
Model Number: TVBOX
Version: 7.1.2
Kernel Version: 4.4.55 linux@linux-PowerEdge-R730 #1
Build Number: 1.1.4
Sunxi support
Current status
Give a brief overview of the current status of support under sunxi here.
Manual build
You can build things for yourself by following our Manual build howto and by choosing from the configurations available below.
U-Boot
Sunxi/Legacy U-Boot
Use the MANUFACTURER_DEVICE build target.
Mainline U-Boot
Use the MANUFACTURER_DEVICE build target.
Linux Kernel
Sunxi/Legacy Kernel
Use the MANUFACTURER_DEVICE.fex file.
Mainline kernel
Use the FAMILY-CHIP-DEVICE.dtb device-tree binary.
Tips, Tricks, Caveats
Add MANUFACTURER DEVICE specific tips, tricks, Caveats and nice to have changes here.
FEL mode
The button on the top of the PCB triggers FEL mode mode (to be confirmed). It is reachable through the CVBS connector.
Adding a serial port (voids warranty)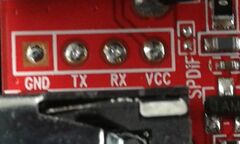 Device disassembly
To open up the case, remove the rubber feet to expose the screws.
Locating the UART
A labelled solder point for the UART can be found between USB-4 and the SPDIF connector.
Pictures
Also known as
List rebadged devices here.
See also
Manufacturer images
Optional. Add non-sunxi images in this section.