Inet k901hc
Jump to navigation
Jump to search
Inet k901hc
Manufacturer
inet-tek
Dimensions
240 mm x 148 mm x 11.5 mm
Release Date
May 2013
Website
Device Product Page
Specifications
SoC
A20 @ 1 Ghz
DRAM
512MiB DDR3 @ 408 MHz
NAND
4GB
Power
USB charging only 5V @ 1.5A, 3100mAh 3.7V Li-Ion battery
Features
LCD
800x480 (9" 16:9)
Touchscreen
5-finger capacitive (Focaltech FT5402DQT)
Video
HDMI (Type C - mini)
Audio
3.5mm headphone plug, HDMI, internal speaker, internal microphone
Network
WiFi 802.11 b/g/n (Realtek RTL8188ETV)
Storage
µSD
USB
1 USB2.0 OTG
Camera
1.3MP (640x480) front
This page needs to be properly filled according to the New Device Howto and the New Device Page guide.
Identification
On the back of the device, the following is printed:
i-INN
PRO 9.0 Dual Core U Black
The PCB has the following silkscreened on it:
INET-K90-REV01
Zeng-gc 2013-05-29
In android, under Settings->About Tablet, you will find:
Model Number: PRO 9.0 Dual Core U Black
Build Number: PRO_9.0_Dal_Core_U_Black.20130903
Sunxi support
Current status
Awaiting patches. Linux can be booted by using boot images for a20-olinuxino_micro with script.bin from the k901c's internal flash. The USB OTG port does not work though.
Images
HW-Pack
BSP
Manual build
For building u-boot, use the Inet_K901C target.
The .fex file can be found in sunxi-boards as inet_k901hc.fex
Everything else is the same as the manual build howto.
Tips, Tricks, Caveats
FEL mode
The something button triggers FEL mode.
Adding a serial port (voids warranty)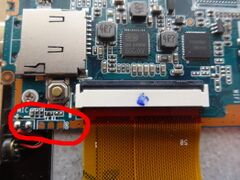 Device disassembly
Carefully insert your Plastic tool between the front and back covers, and gently push the back cover outwards, until you hear the clips release. Go around the whole device.
Locating the UART
A set of clearly marked UART pads are available right next to the reset button and the SD-Card slot. All you have to do is solder on some wires according to our UART howto but this is not comunicating 115200 N81.
Pictures
Also known as
i-INN PRO 9.0 Dual Core U Black
See also
Manufacturer images