Inet k70e
Jump to navigation
Jump to search
Inet k70e
Manufacturer
Inet
Dimensions
191mm x 115mm x 13mm
Release Date
August 2013
Website
Device Product Page
Specifications
SoC
A20 @ 1Ghz
DRAM
1GiB DDR3 @ ???MHz
NAND
4GB
Power
DC 5V @ ??A, ??00mAh ?.?V Li-Ion battery
Features
LCD
800x600 (7" 16:9)
Touchscreen
X-finger capacitive/resistive (Focaltech ??? FIXME)
Video
HDMI (Type C, mini)
Audio
3.5mm headphone plug, HDMI, SPDIF, internal stereo speakers, internal speaker, internal microphone
Network
WiFi 802.11 b/g/n (

TODO:

Manufacturer device)
Storage
µSD
USB
1 USB2.0 OTG
Camera
??.?MP (????x????) front, ??.?MP (????x????) rear
This page needs to be properly filled according to the New Device Howto and the New Device Page guide.
Identification
In android, under Settings->About Tablet, you will find:
Model Number: JDQ39

WTF, this is the id string for Android 4.2.2

Build Number: wing_ibt-eng 4.2.2 JDQ39
Sunxi support
Current status
No sunxi-boards or u-boot-sunxi patches have been made available yet, but this can be trivially done following the New Device howto. Touchscreen doesn't work yet, but apparently ft5x_ts.c can be hacked to make it work.
Images
HW-Pack
BSP
Manual build
For building u-boot, use the "

MANUFACTURER_DEVICE

" target.
The .fex file can be found in sunxi-boards as MANUFACTURER_DEVICE.fex
Everything else is the same as the Manual build howto.
Tips, Tricks, Caveats
FEL mode
The something button triggers FEL mode.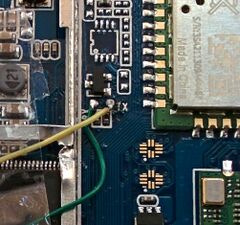 Adding a serial port (voids warranty)

WARNING: Do not attach VCC like the person who made this picture. This might harm your device.
Disassembling the device
Provide a short description of how to open the device. Perhaps explain how the pins can be most easily popped.
Locating the UART
There are 2 pads labelled "RX" and "TX" between the SoC area and the GSM/GPRS module. You can get Ground from anywhere else on the board. All you have to do is follow the UART howto to solder on some wires.
Pictures
Also known as
List rebadged devices here.
See also