ICOU Fatty I
Jump to navigation
Jump to search
ICOU Fatty I
Manufacturer
ICOO
Dimensions
135mm x 200mm x 7mm
Release Date
July 2013
Website
Device Product Page
Specifications
SoC
A20 @ 1Ghz
DRAM
1GiB DDR3 @ 384MHz
NAND
8GiB
Power
DC 5V @ 2A, 3500mAh 3.7V Li-Ion battery
Features
LCD
768x1024 (7.85" 3:4)
Touchscreen
5-Finger Capacitive (Ilitek aimvF)
Video
HDMI (Type C - mini)
Audio
3.5mm headphone plug, HDMI, internal stereo speakers, internal microphone
Network
WiFi 802.11 b/g/n (Realtek RTL8188ETV)
Storage
µSD
USB
1 USB2.0 OTG
Camera
0.3MP (640x480) front, 2.0MP (1600x1200) rear
Identification
The PCB has the following silkscreened on it:
2013-04-10
TOPWISE-013
S785F-MAINBOARD-V2.0.0

In Android, under Settings->About Tablet, you will find:
Model Number: Fatty1
Build Number: 20130601-S785
Sunxi support
Current status
There is neither mainline U-Boot nor mainstream kernel support at this point.
The legacy U-Boot properly supports the device.
Some features are missing on Linux (sunxi-3.4 branch):
USB OTG doesn't work on the external connector (common to all sun7i devices) and it doesn't seem to work in either host or device mode
LCD does not work (it uses MIPI), but backlight works
Wi-Fi doesn't work (interface is never ready)
HDMI doesn't work (segfault)
Manual build
For building u-boot, use the "ICOU_Fatty_I" target.
The .fex file can be found in sunxi-boards as icou_fatty_i.fex
Everything else is the same as the manual build howto.
Tips, Tricks, Caveats
FEL mode
The VOL- button triggers FEL mode. This is the third button from the top on the right edge of the device.
Adding a serial port (voids warranty)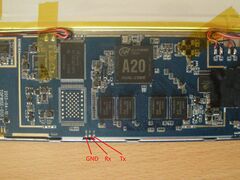 Device disassembly
Opening the device is really straightforward. There are two Phillips screws to remove on top of the device and once these are out, the back aluminium case can easily be removed using a plastic tool to pop a few pins.
Locating the UART
The UART pads are clearly labeled on the PCB: GND, Rx, Tx. These pads are located on the edge of the board, left and below the RAM chips. All you have to do is solder on some wires according to our UART howto.
Pictures
Also known as
See also
Manufacturer images