Bookeen Cybook Muse
Jump to navigation
Jump to search
Bookeen Cybook Muse
Manufacturer
Bookeen
Dimensions
110 x 150 x 5 mm
Release Date

10/2015

Website
Leclerc shop
Specifications
SoC
A13 @

1

Ghz
DRAM
256MiB DDR3 @

360

MHz
Power
DC 5V @ 3A, 1900mAh 3.7V Li-Ion battery
Features
LCD
90x122 (6" 4:3)
Touchscreen
2-finger capacitive (Goodix)
Video
EPD (eInk) using TPS65185 PMIC
Network
WiFi 802.11 b/g/n (Realtek 8188eus)
Storage
µSD / internal eMMC : 2Gb
USB
1 USB2.0 Host
This page needs to be properly filled according to the New Device Howto and the New Device Page guide.
Bookeen is French company dealing with e-books and consumer electronics. The Muse is their main 6 inches eReader, with different version. The case is the same, but the screen resolution and the inside memory are different. You can look at the back of the device to know its reference.
Identification
On the back of the device, the following is printed:
CYBOOK MUSE by BOOKEEN SAS
CYBME1S-BK
This is for the eMMC, 800x600 device.
The PCB has the following silkscreened on it:
M1 / F1 / F2 V1.2
20150727
Sunxi support
Current status
Not supported by Linux mainline. But Bookeen has a Github repo with some sources.
Manual build
You can build things for yourself by following our Manual build howto and by choosing from the configurations available below.
U-Boot
U-Boot 2011 source code is released here.
Mainline U-Boot
Not supported yet, there is no device tree file available.
Linux Kernel
Source code for kernel 3.0 is released here. It is very similar to the allwinner source released a few years ago.
Mainline kernel
Not supported. No device tree available.
Tips, Tricks, Caveats
There are multiple devices using this form factor. You should read the serial on the back.
FEL mode
You can enter FEL mode with special SD card.
Device specific topic
The device uses an e-ink display driven by TPS65185 PMIC chip (same PMIC seems to be used on Kobo and Nook eReaders). The driver seems to be software only, and is available in the kernel source code.
...
Adding a serial port (voids warranty)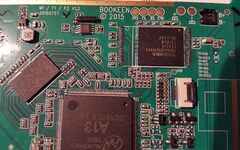 The motherboard has 4 pins labelled 3V3/TX/RX/GND. Connecting them allows to see the boot process, and to get access to a busybox shell. Login is root, with no password.
Device disassembly
No screws, only remove the back side.
Locating the UART
RX/TX/GND is clearly labeled on the board :)
Pictures
Variants
Model: CYBOY4S-CF, s/n: CF605xxxxxxxxxxxxx, PCB markings: IDIG_E025_V1.2 / BK6027_V1.2 / 20130821
has 4GB nand
See also
Bookeen's Github. Bookeen's website.
Manufacturer images