Azpen A741
Jump to navigation
Jump to search
Azpen A741
Manufacturer
Azpenpc
Dimensions
8.6mm x 190mm x 130mm
Release Date
unknown
Website
Missing product page.
Specifications
SoC
A33 @

X

Ghz
DRAM
512MiB DDR3 @

xxx

MHz
NAND
8GB
Power
DC 5V @ ?A, 2800mAh 3.7V Li-Ion battery
Features
LCD
1024x600 (7" 16:9) IPS
Touchscreen
5-finger capacitive (Silead GSL1680)
Audio
3.5mm headphone plug, internal speaker, internal microphone
Network
WiFi 802.11 b/g/n (Realtek RTL8188ETV)
Storage
µSD
USB
X USB2.0 Host, X USB2.0 OTG
Camera
??.?MP (????x????) rear
This page needs to be properly filled according to the New Device Howto and the New Device Page guide.
Identification
On the back of the device, the model number is clearly visible (Model: A741)
The PCB has the following silkscreened on it:
TEAN E120339 94V-OML1
In adb shell, the device identifies itself as astar-m86
Tips, Tricks, Caveats
The kernel normally boots in 'silent' mode, without printing anything useful to the uart. The debug mode can be activated by powering on the tablet with the Vol+ button pressed, and, while holding the button, plugging and unplugging the power/usb cable several times.
FEL mode
The Vol+ button triggers FEL mode. Other boot sources still take priority (microSD), indicating that this is not a proper FEL button, only a function of the bootloader in NAND.
Device disassembly
The device has two screws on the connector side, and the cover is 'clicked' on the screen. After removing the screws, the cover can be easily removed using fingernails or a Plastic tool howto. Inside the board is mounted using three screws.
Adding a serial port (voids warranty)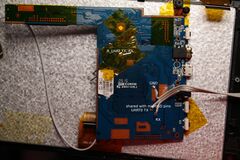 Two uarts' pins are available on the back of the board, see the picture on the right for reference.
UART0 is used by the ROM bootloader and android bootloader, it is however multiplexed with the microSD socket. The preinstalled bootloader doesn't respond to keys received on the RX pin.
R_UART is free to use, but needs to be specifically enabled in your own uboot & linux image.
For more information, see UART howto.
Pictures
Also known as
See also
Manufacturer images