Ampe A76
Jump to navigation
Jump to search
Ampe A76
Manufacturer
Ampe
Dimensions
196mm x 120'mm x 8mm
Release Date
January 2013
Website
Ampe A76 Product Page
Specifications
SoC
A13 @ 1Ghz
DRAM
512MiB DDR3 @ 432MHz
NAND
8GB
Power
DC 5V @ 1.5A, 2600mAh 3.7V Li-Ion battery
Features
LCD
800x480 (7" 5:3)
Touchscreen
5-finger capacitive (Goodix GT818)
Audio
3.5mm headphone plug, internal speaker, internal microphone
Network
WiFi 802.11 b/g/n (Realtek RTL8188ETV)
Storage
µSD
USB
1 USB2.0 OTG
Camera
2.0MP (1600x1200) front
This page is about the latest A13 version of the Ampe A76 tablet. Note that Ampe released different hardware under the name A76.
Identification
Ampe manufactured different tablets under the name A76. Older versions use the A13 SoC and more recent versions ship with an A20 or A23 SoC instead of the A13.
On the back of the device, the following is printed:
Ampe
A76

The PCB has the following silkscreened on it:
A7006Q-V1.1
2013-5-21

In Android, under Settings->About Tablet, you will find:
Model Number: A76II
Build Number: C_V3.01-nuclear-anpei7am-r4.0.84-130704
This version of the tablet ships with a Windows Phone-ish interface for Android (tiles on the homescreen).
Sunxi support
Current status
The device is supported and maintained in mainline U-Boot. There is no mainstream kernel support at this point. Linux (sunxi-3.4 branch) properly supports the device.
Manual build
For building u-boot, use the Ampe_A76 target.
The .fex file can be found in sunxi-boards as ampe_a76.fex
Everything else is the same as the manual build howto.
Mainline U-Boot
For building mainline U-Boot, use the Ampe_A76 target.
Tips, Tricks, Caveats
ADB
The device does not ship with root access enabled: ADB shell runs as unprivileged user. However, the /data/local/tmp trick to gain root access works.
FEL mode
Any button (VOL-, VOL+) triggers FEL mode at boot.
Adding a serial port (voids warranty)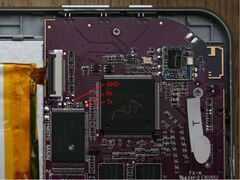 The devices uses UART1 for U-Boot and Linux messages: make sure to properly set console=ttyS1 and spawn getty on ttyS1.
Device disassembly
The back case is rather hard to separate from the front: using a plastic tool is highly recommended! There are up to 14 clips to pop open. The clips are far inside the inner part of the case, so don't hesitate going deep with a plastic tool. It's easier to start on the side with the connectors.
Locating the UART
Locate the UART on the back of the PCB according to the pinout and just solder on some wires according to our UART howto.
Pictures
Also known as
See also
Other Ampe A76 models:
Manufacturer images
Ampe A76 download page: