10moons LT390W
Jump to navigation
Jump to search
10moons LT390W
Manufacturer
10moons
Dimensions
125mm x 125mm x 22mm
Release Date
Sep 2013
Website
Device Product Page
Specifications
SoC
A20 @ 1.0Ghz
DRAM
512MiB DDR3 @ 432MHz
NAND
4GB
Power
DC 5V @ 2A, 5.5mm x 2.5mm DC Jack
Features
Video
HDMI (Type A - full), 3.5mm composite A/V connector.
Audio
3.5mm composite A/V connector, HDMI.
Network
WiFi 802.11 b/g/n (Realtek RTL8188ETV), 10/100Mbps Ethernet (ICplus IP101GA)
Storage
µSD
USB
2 USB2.0 Host
This page needs to be properly filled according to the New Device Howto and the New Device Page guide.
Identification
The board has "A20-M1303 V1.6" printed on it. (There are some other devices existing with different versions numbers such as '10moons T2', '10moons LT390W Android' but they have a completely different form factor.
In android, under Settings->About Tablet, you will find:
Model Number:

DEVICE

Build Number:

SOC_BOARD_DEVICE_*.*
Sunxi support
Current status
Supported.
Manual build
Wrong! You need to add a new uboot config according to the New to the New Device Howto
U-Boot
Sunxi/Legacy U-Boot
Use the MANUFACTURER_DEVICE build target.
Mainline U-Boot
Use the MANUFACTURER_DEVICE build target.
Linux Kernel
Sunxi/Legacy Kernel
Use the MANUFACTURER_DEVICE.fex file.
Mainline kernel
Use the FAMILY-CHIP-DEVICE.dtb device-tree binary.
Tips, Tricks, Caveats
FEL mode
The USB port next to the µSD slot is the USB OTG port. Use the button marked K2 to trigger FEL mode.
Adding a serial port (voids warranty)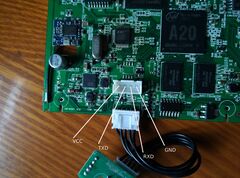 Device disassembly
Just remove all screws at the bottom.
Locating the UART
There is a nice 4 pin 2.54mm pitch JST-PH connector labeled J5 as its UART0 port. Just attach some wires according to our UART howto.
Pictures
Take some pictures of your device, upload them, and add them here. DO NOT UPLOAD PICTURES WHICH YOU PLUCKED OFF THE INTERNET.
Also known as
10moons LT390WD
10moons LT390W 双核版
10moons LT390W 安卓版
10moons LT390W 战斗版
10moons T2
10moons 电视精灵2
See also
Manufacturer images