Mele M3
From linux-sunxi.org
Mele M3
Manufacturer
Mele
Dimensions
140mm x 105mm x 40mm
Release Date
September 2013
Website
Device Product Page (see page#14)
Specifications
SoC
A20 @ 1Ghz
DRAM
1GiB/2GiB DDR3 @ xxxMHz
NAND
4/8 GB
Power
DC 5V @ 2A
Features
Video
Optical/HDMI 1.4 (Type A - full), Composite, VGA
Audio
Left/Right RCA connectors, HDMI, SPDIF
Network
WiFi 802.11 b/g/n (Realtek RTL8188EUS), 10/100Mbps Ethernet (Realtek RTL8201CP)
Storage
SD
USB
3 USB2.0 Host
Other
IRDA
This page needs to be properly filled according to the New Device Howto and the New Device Page guide.
The Mele M3 is an A20 based HTPC housed in the case of the original Mele A2000.
Identification
Device has only "Mele" but no "M3" printed on the case, but you can find "Mele M3" on the carton.
In android, under Settings->About Tablet, you will find:
Model Number: SoftwinerEvb
Build Number: v1.1.1
Sunxi support
Current status
Awaiting good patches.
Please work through the Retrieving device information howto and acquire the necessary information from the pre-installed Android OS.
Images
HW-Pack
BSP
Manual build
For building u-boot, use the "

MANUFACTURER_DEVICE

" target.
The .fex file can be found in sunxi-boards as MANUFACTURER_DEVICE.fex
Everything else is the same as the manual build howto.
Mainline U-Boot
For building mainline u-boot, use the Mele_M3_defconfig target.
Mainline kernel
Use the sun7i-a20-m3.dtb device-tree file for the mainline kernel.
Tips, Tricks, Caveats
FEL mode
The Mele A1000 can be put into FEL mode by shorting jumper 11K1. This has not been verified to work on the M3.
Adding a serial port (voids warranty)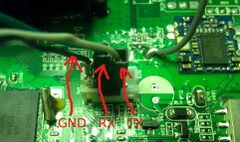 Device disassembly
When you remove 2 screws at top corners of the back side, you can simply take off the plastic cover.
Locating the UART
The Mele M3 has a 4 pin 2.0 pitch JST-PH connector available for its UART0 port (same as Mele A1000). This is the same as some 90s analog audio cables which ran from a CDROM to the sound card. More information is available at our UART howto.
Pictures
Take some pictures of your device, upload them, and add them here. DO NOT UPLOAD PICTURES WHICH YOU PLUCKED OFF THE INTERNET.
Also known as
Mele A100/A20
Mele A100 dual core
See also