Gemei G9
From linux-sunxi.org
Gemei G9
Manufacturer
Gemei Technologies (Defunct)
Dimensions
244mm x 187mm x 12mm
Release Date
February 2012
Website
www.gemeitech.com
Specifications
SoC
A10 @ 1Ghz
DRAM
1GiB DDR3 @ 432MHz/480MHz (4x NT5CB256M8DN-CG)
NAND
16GB
Power
DC 5V @ 3A, 8000mAh 3.7V Li-Ion battery
Features
LCD
1024x768 (9.7" 4:3)
Touchscreen
10-finger capacitive (Goodix GT801 2+1)
Video
HDMI (Type C - mini)
Audio
3.5mm headphone plug, HDMI, internal stereo speakers, internal speaker, internal microphone
Network
WiFi 802.11 b/g/n (Realtek RTL8188CUS)
Storage
µSD
USB
2 USB2.0 OTG
Camera
1.3MP (1280x1024) front, 5MP (2560x1920) rear
Other
Accelerometer (Bosch BMA250)
Headers
UART
This page needs to be properly filled according to the New Device Howto and the New Device Page guide.

If a device is special, then feel free to provide a terse description of what makes this device so special. But terse, no novels, no marketing blurp.
Identification
In android, under Settings->About Tablet, you will find:
Model Number: MID970
Build Number: 03F2-P1-H1-H01-AH40.20120330
Kernel version: 3.0.8+ inet_dada@InetSoftware #162
Sunxi support
Mainline status
u-boot: sunxi_Gemei_G9_defconfig target, queued for u-boot-2015.4 in sunxi-wip
mainline kernel: sun4i-a10-gemei-g9.dts devicetree, queued for linux-3.21
Things that still need work
Audio (waiting for sun4i DMA patches)
Battery management (axp209 powersupply driver)
Camera interface (no CSI driver)
NAND
Touchscreen (no gt801_2plus1 driver)
USB OTG (host mode part works)
sunxi-3.4 status
Somewhat supported. Wifi could be acting up still.
For building u-boot, use the "Gemei_G9" target.
The .fex file can be found in sunxi-boards as zatab.fex.

Everything else is the same as the manual build howto.
Tips, Tricks, Caveats
Add MANUFACTURER DEVICE specific tips, tricks, Caveats and nice to have changes here.
FEL mode
The something button triggers FEL mode.
Device specific topic
...
Adding a serial port (voids warranty)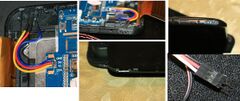 Device disassembly
Remove the two screws on the connectors side. Gently pry the back cover off with your plastic tool.
Locating the UART
There are clearly labelled UART pads under the touchscreen cable. Just solder on some wires according to our UART howto.
Pictures
Also known as
See also