LinkSprite pcDuino V2
From linux-sunxi.org
LinkSprite pcDuino V2
Manufacturer
Linksprite
Dimensions
125mm x 52mm x heightmm
Release Date
September 2013
Website
Product Page
Specifications
SoC
A10 @ 1Ghz
DRAM
1GiB DDR3 @ ???MHz
NAND
2/4GB
Power
DC 5V @ 2A
Features
Video
HDMI (Type A - full)
Audio
HDMI
Network
WiFi 802.11bgn (Realtek RTL8188CUS), 10/100Mbps Ethernet (IC+ IP101A)
Storage
µSD
USB
1 USB2.0 Host, 1 USB2.0 OTG
Headers
UART, Arduino Compatible Headers
This page needs to be properly filled according to the New Device Howto and the New Device Page guide.
The pcDuino V2 is an A10 based development board with Arduino compatible headers.
Identification
On the back of the board, it helpfully says "pcDuino V2".
Sunxi support
Current status
No patches have been submitted yet for this specific board.
Images
HW-Pack
BSP
Manual build
Everything else is the same as the manual build howto.
Tips, Tricks, Caveats
FEL mode
The UPGRADE (SW2, near the HDMI connector) button triggers FEL mode.
Adding a serial port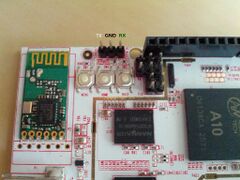 There is 2.54mm pitch header next to the Wifi Module, labelled "UART". All you need to do is connect some jumper wires according to our UART howto.
Pictures
Also known as
This type of device has no rebadges.
See also